The Lehrman Foundation is increasingly aware of the many programmatic and financial challenges non-profits face as they evolve. In that spirit, in 2001 the Foundation created the $25,000 annual Impact Award to support an outstanding emerging non-profit organization that is making an extraordinary difference in the city.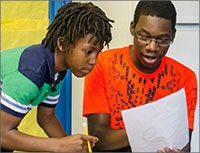 The 13th Annual Impact Award recipient is Reach Incorporated, which exists to address DC's significant literacy crisis. Having launched programming in September 2010, Reach now works with three DC high schools and four DC elementary schools. At each program site, Reach recruits a cohort of adolescent tutors, each of whom works with a single elementary school student in need of support. Reach uses a uniquely structured program in which, on training days, adolescent tutors are guided by trained staff members to develop lesson plans based on the core components of literacy development: phonemic awareness, phonics, fluency, vocabulary, and text comprehension. During these sessions, teen tutors gain fluency with elementary school content and create activities for use with elementary school students. They also role play instructional scenarios and read higher level texts to promote their own reading growth. On tutoring days, teen tutors use their previously designed lesson plans to provide individualized instruction to their elementary school students. Tutors and students read together. The tutors use plans to assess student comprehension and address academic skill gaps.
The results are impressive: on average, elementary school students see nearly 1.5 grade levels of reading improvement, and adolescent tutors experience more than 2 grade levels of reading improvement. During the 2012-2013 school year, Reach saw some tutors' reading grow by as many as 5 grade levels in a single academic year. Also, adolescent tutors (who enter high school with serious academic challenges) were promoted to the next grade at a rate higher than their non-participating peers. And, to date, more than 95% of Reach tutors – current and former – remain in school. These statistics are particularly notable because Reach recruits those students with the most significant academic challenges.
Reach builds readers. Reach creates leaders. And, by lifting two populations through a single relationship, Reach efficiently and effectively attacks DC's literacy crisis.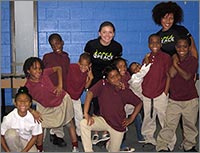 The 12th Annual Impact Award recipient is Move This World (MTW), a global peace education nonprofit that transforms conflict in communities through dance and creative movement. Using dance to instill a critical skill set in youth for empathetic behavior, MTW's innovative curriculum promotes character development, mediation skills and anger management to promote social and emotional competencies for peace. With dance and creative movement as vehicles for social and emotional learning, MTW's progressive curricular and training programs empower educators and youth to be ambassadors for civic engagement and peaceful action in their communities. Uniquely fusing peace, physical, and arts education techniques and content, MTW puts interdisciplinary best practices to work in order to reduce violence, conflict, and bullying. Through scientific monitoring and evaluation protocols, MTW has proven that participating students show an increase in empathetic behavior and teachers are equipped with techniques to promote social and emotional learning. Further, they are connected to a support system of peace education advocates, and parents and caregivers witness change in their children.
MTW currently works with youth in DC, Baltimore, Newark, New York City, and internationally in Colombia, Germany, and the Philippines, connecting classrooms to share intercultural stories of peace. To date, MTW has worked with over 8,036 youth, including approximately 2,000 youth in DC through 20 schools and community centers across the city.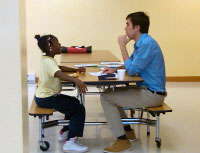 The 11th Annual Impact Award recipient is The Literacy Lab, which provides high-quality, targeted reading remediation to low-income students. The Literacy Lab increases students' literacy skills, leading to increased academic success and greater opportunities in life. By providing individualized reading instruction which targets fundamental skills, the Literacy Lab's trained tutors lead students to higher reading levels and increased confidence. Programming began in 2009, and results have been significant: on average, participating students made an impressive 1.74 grade levels of growth within a six-month period.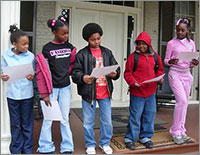 The 10th annual Impact Award recipient is Live It Learn It. Live It Learn It (LILI) boosts student academic achievement and motivation by supplementing conventional classroom instruction with rigorous, academically focused trips to DC's world-class resources. LILI uses experiential learning to make education relevant and engaging. The centerpiece of each LILI program is an academic trip to one of DC's tremendous local resources. All programs are tied to DC's academic learning standards, are interdisciplinary in nature, and feature rigorous pre- and post-trip classroom lessons and assessments. Each student takes part in three trips and six pre- and post-trip classroom lessons over the course of the school year.
The 9th annual Impact Award recipient is Words Beats & Life, a youth-development organization that transforms individual lives and whole communities through the elements of hip-hop culture. The DC Urban Arts Academy is WBL's anchor program. It provides comprehensive arts-based educational activities for hundreds of DC underserved youth and their families during after school hours and during the summer. WBL serves kids city-wide, with an emphasis on Ward 7 (at Benning Park Recreation Center) and Ward 1 (at St. Stephens Church in Columbia Heights). WBL helps youth connect Hip-Hop to real-life skills:emceeing helps with public speaking, building vocabulary and presentation skills; DJing is connected to technology and engineering; and, visual arts are used to paint murals and beautify the neighborhood.
The 8th annual Impact Award recipient is Interstages, a community youth organization, founded in 2005. Interstages provides opportunities for early adolescent girls in low-income neighborhoods to discover talents, develop and strengthen skills, and heighten self awareness, setting the stage for a successful transition into young adulthood. To fulfill this mission, Interstages operates a small and very intensive daily afterschool youth development program for middle school girls. Using a unique educational coaching curriculum which allows students to take ownership of their learning, Interstages helps each student create and implement detailed academic plans. With a maximum ratio of seven students per adult, Interstages ensures that each girl receives personalized assistance as she works toward her vision of success. In addition, at Interstages, students study music in historical and cultural context so they begin to connect to history and view music as both a social indicator and a tool for social change. Each unique curriculum unit integrates a wide range of academic content and incorporates music skills and experiences, including vocal technique, performing, guest artist workshops, reading music, composition, ear training and interactive field trips.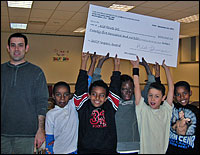 Kid Power DC receiving the 2007 Impact Award
The 7th annual Impact Award recipient is Kid Power, a community youth organization, founded in 2003. Kid Power explores local history through academic, artistic and civic engagement programs. Kid Power began direct educational programs at Miner Elementary School in Northeast DC in October 2003, and currently organizes educational activities at several sites around the city for 120 students. Working with an eight-member program team, a variety of long-term partners, and over 200 volunteers, the students explore local history through comprehensive programs which include:advanced reading and civics instruction; performing and visual art activities; inter-generational and neighborhood service projects; a youth leadership and social entrepreneurship program; a full-service summer camp; and regional and international service trips. Kid Power is expanding the scope of its projects, most notably in the area of middle school education. KPDC has established many strong community partnerships, including unique and successful relationships with Edmund Burke and Georgetown Day School.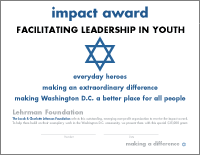 The 6th annual Impact Award recipient is Facilitating Youth in Leadership (FLY), a youth development organization which began in 1999. At that time, three American University (AU) students got to know young people from the Barry Farms public housing community, a very distressed neighborhood in Southeast DC. Incorporated in 2002, FLY is the only long-term, free, youth-led program working in Southeast. FLY serves its students in three distinct but related areas:academic achievement, youth development, and leadership. FLY has a unique and extremely strong partnership with AU, whereby each FLY student receives free one-on-one tutoring with an AU student during the school year as well as participation in a seven-week summer camp and teen leadership program held on AU's campus. In addition, each FLY participant and his/her family receives assistance with education decisions and opportunities, as well as extracurricular after-school programs. FLY has demonstrated success by creating a support network and facilitating communication among parents, teachers, volunteers and youth.
The 5th annual Impact Award recipient is Brainfood, a youth development organization founded in 1999 that uses food creatively to teach life skills to low-income DC public high school students. Through fun, culinary-related activities, in addition to acquiring critical knowledge about food preparation, budgeting and nutrition, Brainfood participants gain self-esteem and a real sense of empowerment and control over their circumstances and community. While providing a safe, stimulating and nurturing environment for all the participants (who come primarily from Mr. Pleasant, Columbia Heights, Adams Morgan and Shaw neighborhoods), the positive impact Brainfood has had on some of the youth is immeasurable, raising their level of expectations and consequently, enabling them to make sound decisions and pursue opportunities they otherwise would have viewed as beyond their reach.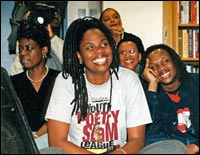 The 4th annual Impact Award recipient is DC Writers Corps, a city-wide literary arts program that helps participants develop their expressive powers, build literacy skills and widen their cultural horizons. Beginning in 1994 as a collaboration between the National Endowment for the Humanities and AmeriCorps, DC Writers Corps formally incorporated in 2002 and now works with all twelve public middle and junior high schools in the District. The Corps empowers young people through in-school workshops, a Youth Poetry Slam League, 2kNation Radio project, and the Youth Development Corps. Recognizing that not everyone will be a great writer, but all youth can use writing as a tool to greatly enhance their opportunity for academic, professional and personal success, DC Writers Corps strengthens the voices of kids and evokes them to the power and passion of their own words.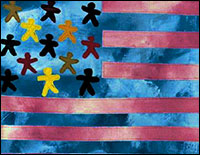 The third annual Impact Award recipient is Life Pieces to Masterpieces (LPTM), an organization located in Southeast DC which provides artistic inspiration to young African American males living in public housing projects. At Life Pieces, 40 "apprentices" use paint, storytelling, rap and poetry to make something of great beauty our of their lives, which are often plagued by poverty, extremely difficult home-lives, and substance abuse. Founded in 1996, the group took its name from the unique style of art its members collectively create – painting canvas, cutting it into various shapes, and sewing the pieces together to tell real life stories, building self-esteem and leadership in the process. Combining arts instructions with human development, LPTM's energy is contagious, its art work stunning, and its accomplishments extraordinary.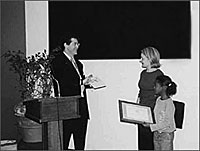 Sitar Arts Center receiving the 2002 Impact Award
The second annual Impact Award recipient is the Sitar Arts Center, an organization based in the heart of Adams Morgan that focuses on programs and activities for at-risk children, youth and their families, but also reaches out to all community members through shared experiences in the arts. By providing a safe, structured and nurturing environment for exploring music, dance, drama, writing and visual arts, the Sitar Center serves as a catalyst not only for the imagination, but for increasing the cognitive and life-skills of all participating DC members.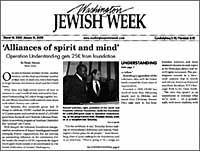 Operation Understanding D.C. receiving the 2001 Impact Award
The first annual Impact Award recipient is Operation Understanding D.C. (OUDC), an organization based in the District of Columbia that rebuilds the historic and once-effective alliance between African Americans and Jews. By working directly with the youth – tomorrow's leaders in both communities – Operation Understanding is achieving its goals of dispelling stereotypes and promoting mutual respect, dialogue, cooperation and understanding. OUDC is building a future generation of Jews and Blacks working together to fight racism, anti-Semitism and all forms of discrimination.
Organization was founded as a 501(c)(3) within the past ten (10) years
Annual operating budget of $750,000 or less
Located in the District of Columbia
Organization is making an extraordinary difference meeting the needs and serving the individuals consistent with the Foundation's stated mission
Organizations are only eligible to receive the Impact Award once